Top Best
Top 5 Best Mac Data Recovery Software Tools for Your Apple Devices
Losing data from a device is common, but painful. Especially, when you are using premium gadgets like MacBooks and iPhones, losing important files or data can mean a world falling on your head. But you need not worry. The use of high-quality Mac data recovery software can help you restore lost files back into the device.
Introduction
The primary reasons behind data loss are accidental erasing of a file, formatting of the system, permanent deletion of a file from the recycle bin, and not taking backup of relevant files and data.
A file once deleted from the Mac OS gets stored in the recycle bin first, but when it gets deleted from there—you need the best Mac Data Recovery software for it.
Sometimes, even a slight lack of focus and concentration at work can result in a permanent deletion of a file. But without getting panicky, you can still recover it using Mac file recovery software. Simply download and install the tool on Mac OS-compatible devices and gadgets to retrieve what you've lost.
Choosing the best Mac data recovery tool can be a bit confusing to users as so many data recovery tools for mac are available online. But all tools may not work on your device. In the case of Mac-operated devices, you should use compatible data recovery software only.
For your help, here are some of the most effective recovery solutions for obtaining your lost files back.
Top 5 Mac Data Recovery Tools You Should Use in 2023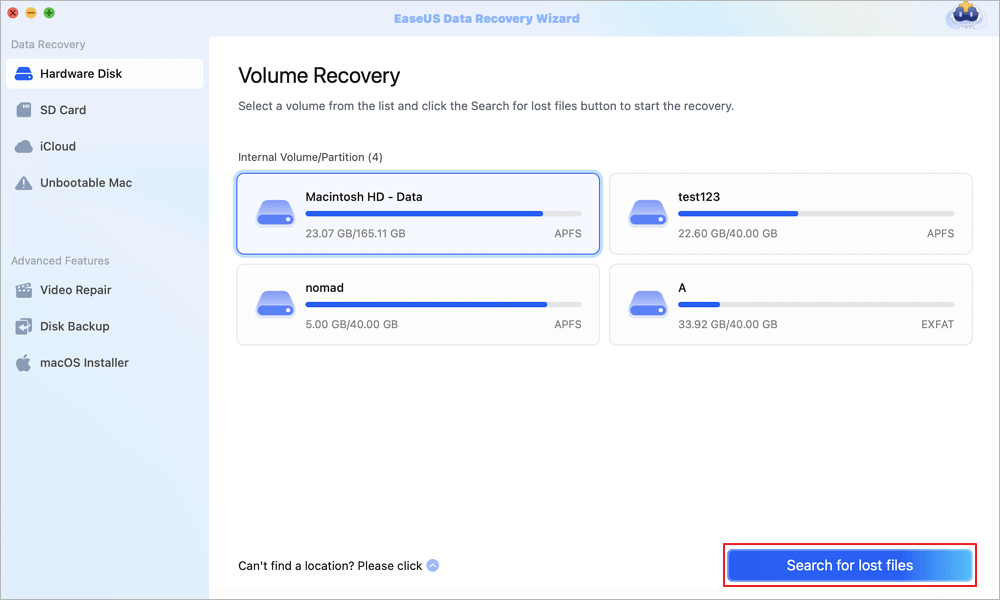 EaseUS data recovery kit is flexible and versatile. It can help you restore lost data not just from Mac OS but even from your Windows OS-operated devices, too. Also, the software runs smoothly on almost all versions of MacOS, including Catalina, Mojave, and older versions of Mac as well. You can use its Pro or basic versions depending on your needs and requirements.
Essential Features:
It helps restore lost data from SD cards, flash drives, SSDs, and others.
You can activate its Quick Scan or Deep Scan modes to start retrieving lost files.
It's extremely helpful in getting lost data retrieved especially during hardware crashes.
Pros
The tool supports full data recovery from a formatted system.
It offers advanced features like bootable data recovery from corrupted OS.
Its free edition helps you restore lost files, images, and data up to 2GB.
Get instant support from its customer support desk at [email protected].
Subscribe to its Pro Version for restoring data of more than 2GB.
Cons
Creates unnecessary folders during the data restoration process.
Slightly more expensive than other data recovery solutions
It doesn't provide any customization option to retrieve data for a specific folder.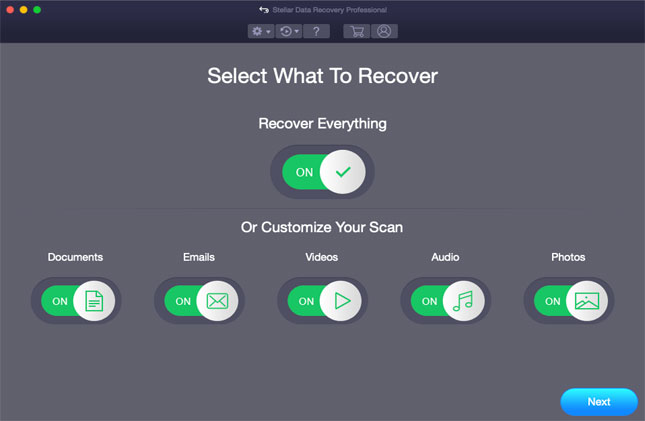 Stellar Data Recovery solution is one of the most popular data restore solutions among Mac and Windows users. It has a vibrant legacy of over 26 years in the data recovery segment and is still going strong.
It works effortlessly on both Windows OS and Mac OS. Also, it helps retrieve lost emails (any) from your Mac device. This software tool is fully compatible with MacBook, iMac, and other Apple devices.
Features
Mac users can easily operate it using its interactive dark theme.
All that you need to do is select the folders and scan the same to retrieve lost files.
Its free version allows you to retrieve data and files up to 1GB.
Pros
The software's paid version offers a 30-day money-back guarantee.
Use its deep scan feature to retrieve 100% lost data from your device.
It is fully compatible with Mac OS—previous and latest versions.
Cons
You can't use its free version for retrieving files above 1GB size.
The tool won't help restore data from a dead Mac device.
For accessing its advanced features, using its PRO version is a must.
#3. Disk Drill Recovery Solution
Disk Drill is the premium Mac file recovery tool for users. It supports a multiformat retrieval process, which means you can use it to get back lost or deleted data in any format. You can easily install and run the tool on any Mac device. Disk Drill can retrieve data even from lost partitions and corrupted files.
Features
Use its Cleanup feature to free space on your HDD.
It offers additional features like data backup and disk cleanup.
The folder size of the app is just 17 MB
Pros
You can only restore data up to 500 MB using its free version.
Simple user interface.
Easy to operate and simple to understand.
Cons
You need to subscribe to its paid version for additional functions.
It doesn't help retrieve data from unbootable devices.
Live chat support with the help desk is not available.
Tenorshare 4DDIG is another effective Mac File recovery software for users. It makes use of the latest patent restoration technology to restore lost data and deleted files. The software works at a faster pace and helps complete the data retrieval process in just a few minutes.
Features
Restores deleted data from Recycle Bin.
Can retrieve images, videos, and audio files.
It works on multiple Mac devices.
Supports both the latest and previous versions of Mac OS.
It restores lost data in any format.
Pros
It comes with an intuitive user interface and simple layout.
You have multiple recovery modes to activate.
Activate its quick scan mode to retrieve lost files in a few minutes.
It's quite effective in retrieving data from flash drives and memory cards.
Cons
No support for restoring lost data above 3GB file size.
You can't get support for restoring individual folders.
It's a bit costlier than other file recovery software for Mac.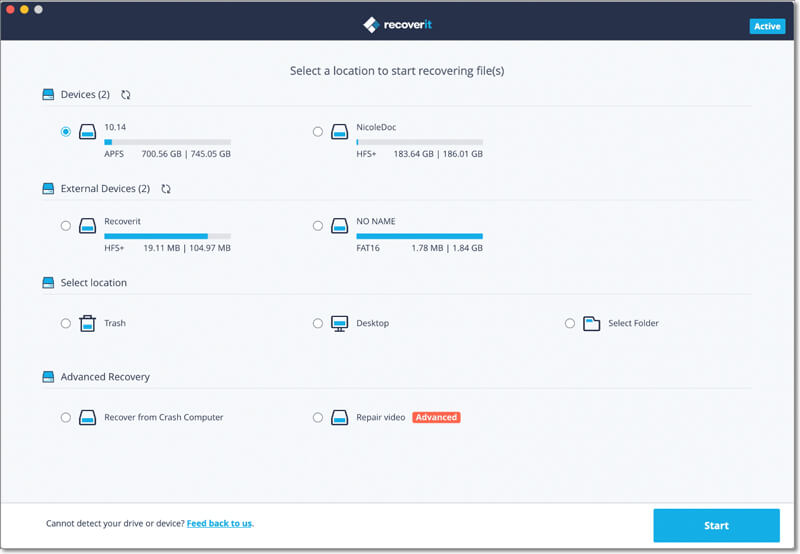 Recoverit Data Recovery tool is perfect for Mac users. You can get all your erased and lost files back from your Mac's HDD and external memory cards or flash drives after running this software on your device. It also facilitates the creation of a bootable media to restore lost files from an inactive Mac device.
Features
Get back your unsaved files due to the sudden power outage.
Retrieve lost data due to a virus attack.
You can even get deleted files back from Linux OS
It has upgraded its user interface for ease of use
Pros
You can check the preview of the file before retrieving it.
It supports restoring data from any storage device.
It follows a quick and easy recovery process.
Cons
The free trial version won't provide too many features and functions.
It doesn't guarantee any data protection during the file retrieval process.
Its user interface is a bit difficult to understand.
Its free version won't work if the device is dead or damaged.
In Conclusion
No doubt, all these best Mac data recovery software are good and effective. But it completely depends upon your requirement of which software you choose for your data recovery purposes. It's always beneficial to go through the features, pros, and cons of various Mac data recovery tools before using them. It'll give you a rough idea about what the tool is expected to do after getting the same installed on your system.